With a few exceptions, when I was growing up, British comics had a different style and design from American comics.  Publications like the Beano, Topper, Victor and Valiant were weekly and were mainly B&W (or B&W + 1-colour) with only covers and sometimes centre pages in full colour.  The Eagle of the fifties had more colour than other UK comics (though it still carried B&W strips) but that was an exceptional comic.  I've covered these in a little detail in earlier blogs but have only briefly mentioned one typical British comic type so far: the pocket book comic.
I was first aware of these  as pocket-sized war comics – the above are two examples, one by Fleetway the other by Amalgamated Press (though a couple of years later they would be amalgamated – eh?).  One is tenpence (not 10p, 10d) the other a shilling – in todays money roughly 85p and £1.  In these days new US comics (e.g. DC/Timely/ACG/Charlton) cost 9d and were printed 3-colour – with varying degrees of print quality, DC usually being the best.  However the B&W pocket books held 64 pages, although there were usually only 2 largish panels to a page due to the small size of the books.  Still one was getting a bit more story in the pocket book.
The stories were distinctively British in style – World War II was very recent history and the stories reflected the British soldier's part in this.  They were also a little more "gritty" than what one got in "tabloid" size comics like the Wizard and Victor.  They were so successful that DC Thompson produced their own similar publication Commando  which is, oddly, the only modern survivor of its type.
Other types of these books were produced apart from war comics: e.g. detective, adventure, space stories.  I don't recall seeing the other similar books until some time later and then only space adventure stories, however my research has shown that in the early fifties the English pocket book publishers produced detective, western, legendary and historical characters (e.g. Robin Hood, The Musketeers, Pirates, etc.) among others as well as lines of detective series, including characters like The Saint, Bulldog Drummond and Sherlock Holmes.
Above are illustrations from the covers of two pocket-book comic collections of old 50s  issues which are still available today from Amazon.
One curiousity I came across in my late teens was a pocket-book superhero comic called  RADAR.  At the time I was unaware of the fact that these were UK reprints of an Italian superhero comic from the fifties and sixties and had no idea of its origin.  I only ever saw the few issues I read at railway station newspaper shops.
It was a peculiar production, mainly B&W but with colour pages every so often.  RADAR himself was bland and characterless but the stories were decent enough though run-of-the-mill.  One thing that I always wondered about was that his existence was supposed to be secret yet whenever someone was in danger they thought things like "Only RADAR can save me now!"  This was picked up telepathically by the superhero who could also fly and take any form.  I suppose it was a bit rubbish really but as a young man that was kind of addicted to comics, especially sci-fi and superhero comics, I found it readable enough.
I wrote a couple of paragraphs above on an obscure little comic – I'd need hundreds of pages, possibly 1000s, to write up every every title that DC Thomson, Amalgamated and Fleetway produced. This is because so many of the stories were one-offs, coming under the general titles like War, Battle, Air Ace, War at Sea and Commando. The only continuation seen in most of  them was thematic with particular kinds of stories seen again and again and by artist/storyteller.  Some of the older Fleetway/Amalgamated pocket books did have continuing characters who appeared in several issues: for instance the detective characters mentioned above and Rick Random Space Detective.    Several stories featuring this character are available in a collected book.  But in general every pocket book had a different story with different characters.
At various times characters from DC's the Beano, Bunty, etc.  were produced as pocket-sized comics.  Stories like the one shown below were intended to create a female readership for pocket book comics similar to that of boys for Commando.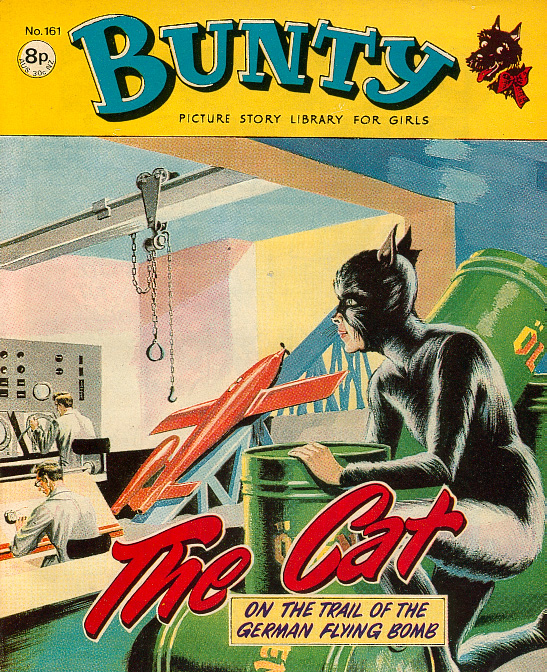 The girls' comics were usually realistically-drawn adventure stories and they ran from 1963 well into the 1990s.  I do remember seeing them as a kid but don't recall reading any issues (though I may have as I used to pinch my sisters' comics). The series title was Picture Story Library for Girls and the main titles were  Bunty, Mandy, Debbie and Judy.  They were single complete stories often featuring charcters from the weekly comics but sometimes using new characters in original situations.
The Beano and Dandy type pocket books (also known as known as Comic Libraries) came much later in the 1980s and featured stories with one character or strip title from the weekly comic.  So if you were mad keen on say the Bash Street Kids you could get a booklet crammed with their stories only.   They lasted into the 90s and were relaunched in 1997 as "Fun Size" comics and then ran until 2010.   Another comic which ran in my adulthood and which I was quite keen on for a while – I used to have a reasonable collection – was Starblazer. This was a late entry by DC Thompson into the comic pocket-book field.
This was originally a purely Sci-Fi comic but later branched out into Fantasy stories. It was aimed at young teens to young (minded) adults and ran some very decent stories often well illustrated.  The illustration shown above reminds you that it was a Scottish publication.  I long ago gave away  or sold most of my individual comics collections but I wish now that DC Thompson would publish some StarBlazer collections along the lines of the Commando one they have produced in the last few years.